Sights of Immigration
Immigration is a complex and often controversial issue with many social, economic, political and even religious implications. In the midst of the debate, what often gets lost are the human issues at stake. We offer these multimedia experiences to demonstrate the human side of immigration issues.
2005 border pictures courtesy of Fr. Daniel Groody.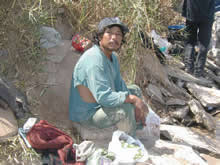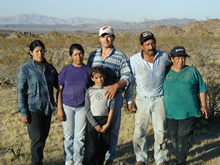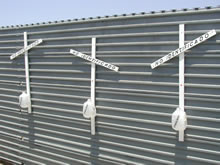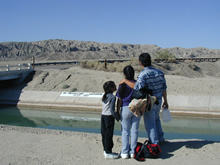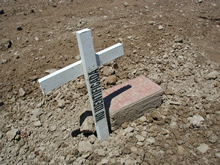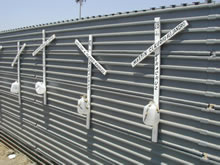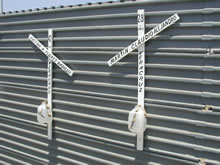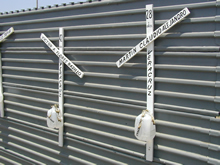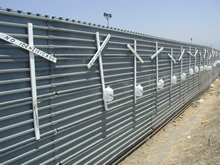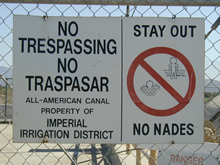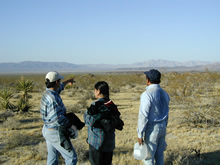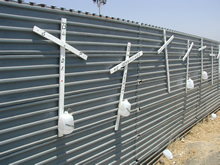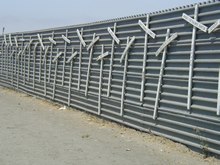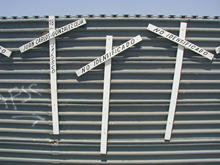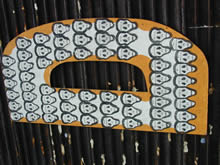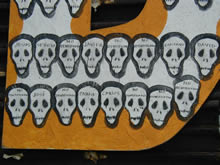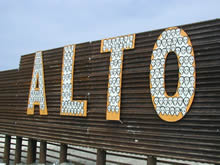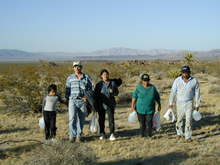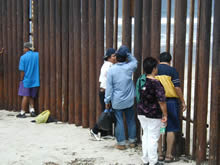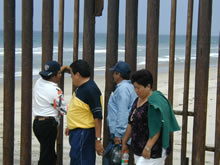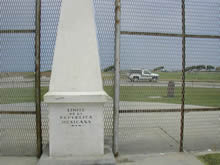 Caras Vemos
The Institute for Latino Studies commissioned these three works from their 2006 show on immigration issues. These are located at the Snite Museum at the University of Notre Dame.
Photography by Alan Pogue
Photographs courtesy of Alan Pogue. See his just-published book at www.documentaryphotographs.com.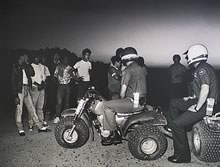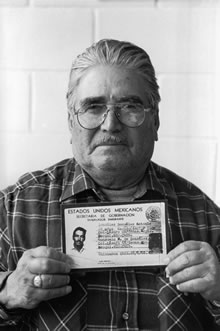 March 10, 2006 demo for immigrants' rights in Chicago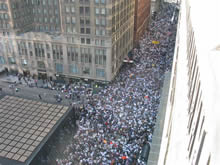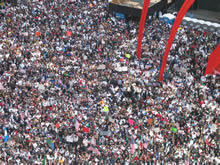 Immigration Films
Strangers No Longer
Fr. Daniel Groody, C.S.C.
Watch Now
Project Mexico Immersion: Confronting Transnational Migration
Approx. 21 minutes
Kevin Barry
Experience the journey of a group from Plymouth Indiana as they come face to face with issues of transnational migration. They meet members of their community that have migrated from Santiago Capitiro, Guanajato, Mexico, then visit the relatives of these new acquaintances there.
This journey, organized by the local non-profit Heart and Hands, was part of an educational initiative to help medical and other human service professionals work more effectively with the Latino population.
The importance of this educational mission is clear when considering that nearly 1,000 of Plymouth's approximately 11,000 residents are migrants from Santiago Capitiro.
Kevin Barry is the Associate Director at Notre Dame's John A. Kaneb Center for Teaching and Learning. He teaches "La telenovela: la historia, el significado cultural y la producción estudiantil." He aIso teaches a cross-listed course on the Telenovela.
More details: http://www.nd.edu/~kbarry2
Dying to Live: A Migrant's Journey
NR, 33 minutes, 2005
Rev. Daniel Groody, Director and Executive Producer
"This documentary is a revealing, riveting and heart wrenching look at one of the most pressing issues facing our nation" –U.S. Representative Luis V. Gutierrez
"This film opens minds and hearts" –David Carrasco, Harvard Divinity School
Dying to Live received the best documentary award Nov. 30, 2006, at the New Way Media Film Festival in Berkeley, California. Read the press release.
A scholar who frequently writes on the emotional and spiritual challenges faced by undocumented immigrants, Rev. Daniel Groody, C.S.C., is assistant professor of theology at the University of Notre Dame. Groody has been studying Mexican immigration for more than 15 years.
More on Groody: theology.nd.edu/people/all/groody-daniel
Order the film: dyingtolive.nd.edu